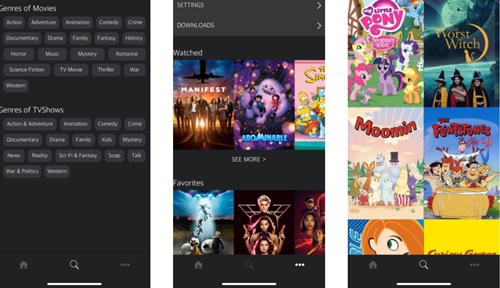 Apple is going to released its biggest innovation to the public with massive bulk of features including FaceTime SharePlay option.Now you can download ZiniTevi on your iOS 15 version and share your Movies with your friends or family members using this amazing newer features on FaceTime.
So this will be help to clear out all about the iOS 15 and its all features indeed.If you are still being trying to download iOS 15 on your device please follow 3uTools tutorial guide to download this firmware very easily.
iOS is consist with advance screen sharing features with your friends,family members using SharePlay option while you are contacting with FaceTime .Thus you can share your watching Movie/Cartoon or TV Show on ZiniTevi with others.FaceTime provides following special features too.
Watch together
Listen together
Share your Screen with others
Spatial videos
Advance Grid view
Mic Mode
More other advance features have added on iOS 15.So please download and install this firmware on your iDevice to make your device a secured place.
ZiniTevi Overview
ZiniTevi provides full HD videos streaming facilities on iPhone OS/iPad OS/Android Phone/Android Box devices.Moreover you can stream videos on Apple TV,Smart TV,Firestick TV ,Chromecast,Roku,MiBox,Playstation,Xbox,PC,Laptop,MacOS.
You can download this app on your jailbroken and nonjailbroken iPhone/iPad for free.You can follow several steps to download this app on your iPhone/iPad easily.Now you can download this app related app from your Apple app store via following link.
Zinitevi Download using Cydia Impactor
So you can use Cydia Impactor tool to download this app on your device.Where please download the Cydia Impactor tool first and download the IPA file on your Windows/MacOS.
We recommend to place the ZiniTevi IPA file which you downloaded on your desktop.Then open Cydia Impactor tool on your Mac or Windows and connect your device using USB cable to your computer.Tool will recognize your device.
Now please click on the downloaded IPA file and drag and drop it on to Cydia Impactor Tool.Then you will be received a prompt up message with asking Apple ID and password.This password should be an app Specific password.
You can download this app on your iOS running iPhone/iPad with following methods too.
Using TestFlight
Direct download and install
ZiniTevi Download On Jailbroken Devices
If you have a jailbroken iPad or iPhone,please follow the steps below and you will be able to download this app very easily.
Open Cydia.
Navigate Sources>>Edit>>Add.
Enter https://zinitevi.github.io/repo
Tap Add Source
Tap ZiniTevi Repo Origin>>Tweak>>Install>>Confirm
Finally you will see the ZiniTevi app on your device Home screen.
iOS 15 Upgrade Using 3uTools
You can easily upgrade your current iOS firmware to the latest iOS 15 version using 3uTools.
3uTools is the best iOS helper tool that you can manage your iPhone/iPad for free.
This tool helps to do everything on your device without any restriction.
Furthermore you can try to download ZiniTevi on your iOS 15 running iPhone/iPad too.
What are the best ZiniTevi Alternatives in 2021
Following Movie streaming free apps you can use as your ZiniTevi alternatives.
Try those apps for free and enjoy your life with thousands of free Movies,TV Shows,Cartoons.
Conclusion
ZiniTevi latest version available on iOS 15.But currently you can download this app on your iPhone/iPad with very few ways only.We have given all methods above and we invite you guys to touch with us to get your next update soon.